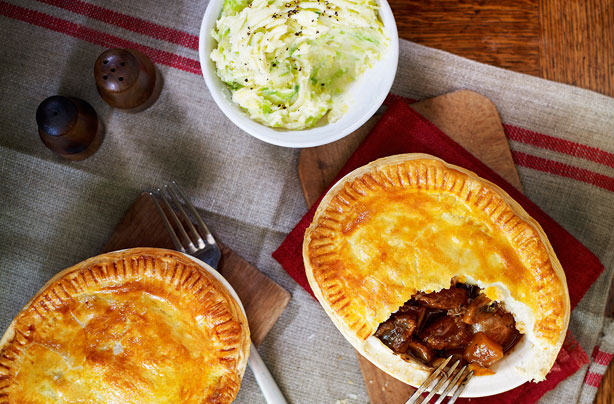 You can enjoy these steak and Guinness pies with sprout mash by Slimming World guilt-free, thanks to the light puff pastry and all the fresh veggies packed inside each pie. Tender chunks of steak and a rich Guinness-infused gravy make each mouthful taste incredible. Serve with homemade mash packed with sprouts and watch these tasty pies disappear in no time...
Ingredients
Low-calorie cooking spray
600g fillet steak, all visible fat removed, cut into small chunks
400g button mushrooms, quartered
200g celeriac, peeled and cut into small cubes
200g small shallots, peeled
2 tbsp Worcestershire sauce
A small handful of fresh thyme, finely chopped
200ml beef stock
2 tbsp Guinness
1 level tbsp gravy granules
100g Jus-Rol Light Puff Pastry
1 egg, lightly beaten
For the mash
:
800g floury potatoes, such as Desiree or King Edward, peeled and roughly chopped
400g Brussel sprouts, finely shredded
100ml hot vegetable stock
Salt and freshly ground black pepper
Method
Preheat your oven to 220°C/Fan 200°C/Gas mark 7. Place a large, heavy-based frying pan sprayed with low calorie cooking spray over a high heat. Add the steak and stir-fry for 5-6 minutes, until browned.
Add the mushrooms, celeriac, shallots, Worcestershire sauce, thyme, stock, Guinness and gravy granules and bring to the boil. Reduce the heat to medium and cook for 6-8 minutes, or until the sauce has thickened.
Remove from the heat and divide the mixture between 4 deep, oval pie dishes, each about 12 cm long.
Roll out the pastry and cut out 4 lids to fit the pie dishes. Brush the rims of the dishes with water, cover the pies with the pastry lids and press down with a fork. Brush each lid with the beaten egg. Bake for 15-20 minutes, or until risen and golden.
Meanwhile, boil the potatoes for 12-15 minutes, or until tender, adding the sprouts for the last 5 minutes. Drain, return to the pan and add the stock. Season and mash well then serve immediately
Recipe taken from Slimming World magazine, available at all 11,000 Slimming World groups or from all good newsagents. To find your nearest Slimming World group visit www.slimmingworld.com or call 0844 897 8000. Photos: Extra Easy Express/Gareth Morgans.
source
Like us on Facebook