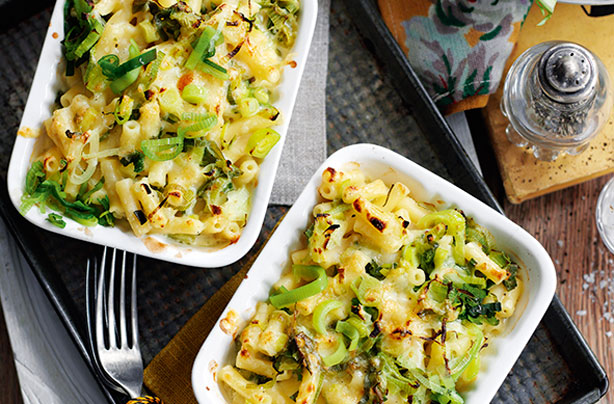 Slimming World's leek macaroni cheese is really simple to make taking only 20 mins in total - perfect if you're looking for a speedy, healthy supper during the midweek rush. The fresh chives and hint of mustard powder gives this dish a warming flavour.
Ingredients
500g dried macaroni
2 trimmed leeks, thinly sliced
200g quark
200ml boiling vegetable stock
1tbsp onion granules
2 garlic cloves, crushed
1tsp mustard powder
small handful chopped fresh chives
50g reduced fat Cheddar cheese, grated
Method
Cook the macaroni according to the packet instructions, adding the leeks for the last 3 minutes of the cooking time. Drain and return to the pan.
Meanwhile, preheat the grill to medium-high.
Put the quark, stock, onion granules, garlic, mustard powder, chives and three-quarters of the cheese in a small pan and whisk to mix together. Heat gently until the mixture is fairly smooth and season well. Stir the sauce into the drained macaroni and leek and toss to mix well.
Spoon the macaroni mixture into four individual heatproof dishes arranged on a baking tray (or use a shallow casserole dish). Sprinkle over the remaining cheese, season and grill for 4 minutes or until golden and bubbling. Serve hot with salad or vegetables of your choice.
Recipe taken from Slimming World's Extra Easy Express, available from all Slimming World groups priced £6.99/€10.50. To find your nearest Slimming World group visit our website or call 0844 897 8000.
source
Like us on Facebook