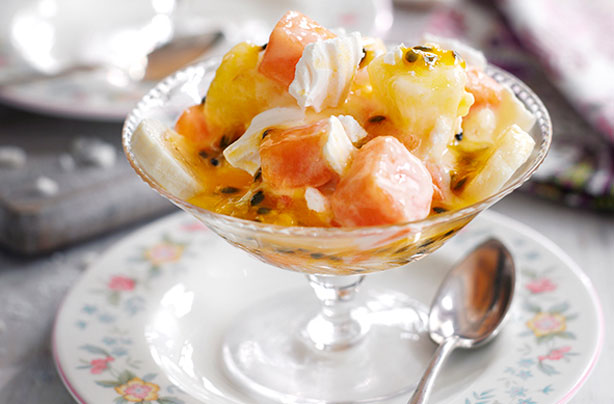 This light and delicious Slimming World's tropical Eton mess is so simple to make. You can have it ready on the table in just 15 minutes. The tropical flavours of this sweet dessert will transport you to a warm, sunny place. The banana, passion fruit and pineapple work wonders together along with the crisp meringues and vanilla yogurt, which is used instead of cream.
Ingredients
6 passion fruits
1 tsp sweetener
400g prepared pineapple chunks
1 large banana, sliced
1 small papaya, peeled, seeded and cut into bite-sized chunks
175g pot Muller Light Vanilla yogurt
2 meringue nests, roughly crushed
Method
Put the pulp and seeds from the passion fruits in a small saucepan with the sweetener and 75ml of water. Heat gently for 2-3 minutes until the sweetener has dissolved then stir to mix well. Remove from the heat and set aside to cool.
Meanwhile, put the rest of the fruit into a large bowl, add the yogurt and half the passion fruit mixture and swirl through.
Fold in the meringue and divide the mixture between four chilled dessert glasses. Spoon over the remaining passion fruit mixture to serve.
Tropical Eton Mess recipe taken from Slimming World's Extra Easy Express. For more delicious recipes or to find your nearest Slimming World group visit www.slimmingworld.com or call 0844 897 8000. Photos: Extra Easy Express/Gareth Morgans.
source
Like us on Facebook