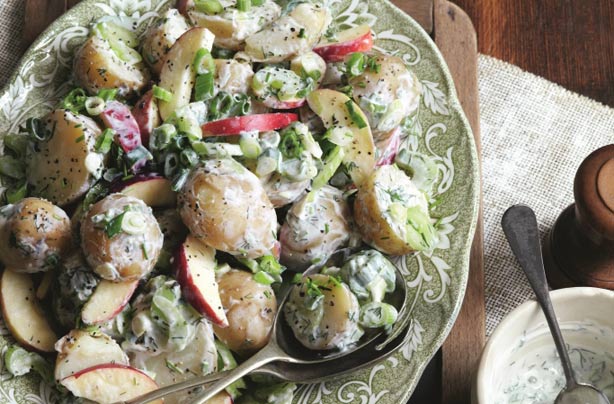 If you're looking for a light and healthy lunch or side dish, Slimming World's Jersey Royal potato salad is the perfect choice. This delicious potato variety is Jersey's finest export and the unique flavour is best shown off in a satisfying salad. They're in season in spring and early summer but don't worry if you can't find them, as new potatoes will work just as well.
Ingredients
1kg Jersey Royals or new potatoes, scrubbed and halved
3 red apples, cored and cut into thin wedges
4 celery sticks, thinly sliced
For the dressing:
300g fat free natural fromage frais
½ tsp mustard powder
1 tbsp cider vinegar
Bunch of spring onions, thinly sliced
Small handful of finely chopped fresh dill
Small handful of finely chopped fresh chives
Salt and freshly ground black pepper
Method
Boil the potatoes in a saucepan of lightly salted boiling water for 10-12 minutes or until tender, then drain and put them into a large mixing bowl.
Meanwhile, mix all the dressing ingredients in a bowl and season well.
Pour the dressing over the potatoes and add the apples and celery. Toss well and serve warm or cold.
Credit: Recipe taken from Slimming World's Food Glorious Food book, which is available now in all Slimming World groups priced at £4.95. Visit our website or call 0844 897 8000 to find your nearest group. Photo: Slimming World's Food Glorious Food/Lara Holmes.
source
Like us on Facebook