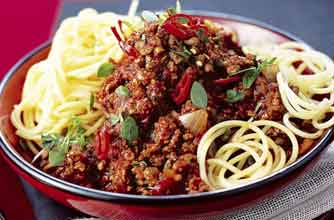 Try this low-fat, full-flavour spaghetti Bolognese from the Slimming World Diet.
Ingredients
Ingredients
1 onion, chopped
2 large garlic cloves, crushed
1 small carrot, diced
1 small red pepper, deseeded and chopped
1 small yellow pepper, deseeded and chopped
113g/4oz mushrooms, sliced
4 large sticks celery, chopped
227ml/8fl oz stock
A pinch of dried chilli
283g/10oz extra lean minced beef
1 397g/14oz can chopped tomatoes or passata
4 level tbs tomato purée
1tbs chopped fresh oregano
Balsamic vinegar
Salt and pepper
400g cooked, wholemeal spaghetti
Method
To make the Bolognese: Fry chopped garlic, celery and onion using a low calorie oil spray, until soft.
Add extra lean minced beef (or Quorn if you want a vegetarian option) and brown in the pan.
Add chopped mushrooms, peppers, canned tomatoes or passata, oregano, thyme, carrots, tomato puree, dried chilli and a drop of balsamic vinegar if you like.
Simmer until sauce is thickened.
Season to taste. Pour over spaghetti and serve with a green salad on the side.
Syns per serving:
½ Syn on Extra Easy and Original*
* add 6 Syns if not using wholemeal pasta as a Healthy Extra
Like us on Facebook