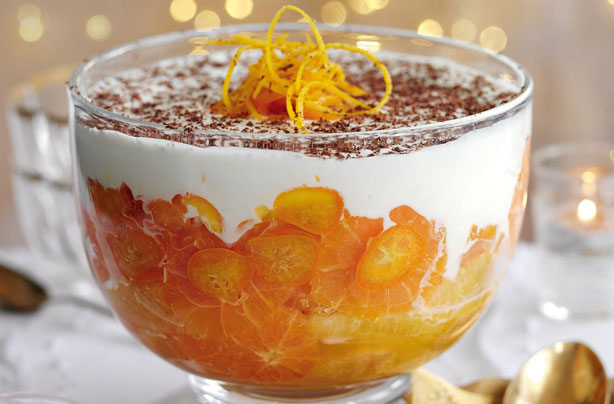 An extra special festive treat from Slimming World. Ready in just 20 mins and it's good for you! This boozy trifle is the perfect dessert for a celebration
Ingredients
170g/ 6oz kumquats, washed and thinly sliced
4 tbsp artificial sweetener
2 tbsp whisky
½ tsp ground cinnamon
2 large oranges
6 sponge fingers, broken into bite-sized pieces
340g/ 12oz fat free natural fromage frais
28g/ 1oz plain chocolate
Method
Place the kumquats in a small saucepan with 4 tablespoons of water and 1 tablespoon of sweetener. Bring to the boil and simmer gently for 6-7 minutes until tender. Transfer to a small bowl, stir in the whisky and cinnamon and set aside to cool.
Meanwhile, prepare the oranges. Using a vegetable peeler, pare off a few strips of rind from one orange, slice into thin strips and place in a small bowl of water. Chill and reserve for decoration.
Grate the peel from the other orange until you have ½ teaspoon rind and reserve this. Using a small sharp knife, slice the rind off both oranges, removing as much of the white pith as possible. Over a bowl, cut in between each segment and remove the portions of orange flesh and place in the bowl.
Place the sponge finger pieces in the base of a glass serving bowl. Top with the orange segments and any juices. Cover and chill until required.
Mix the fromage frais with the remaining sweetener and the reserved grated orange rind; cover and chill until required.
To serve, spoon the kumquats and their juices onto the oranges and top with the fromage frais. Grate the plain chocolate over the top and decorate with the drained orange rind strips.
Slimming World syns
:
Extra Easy
: 5
Green
: 5
Original
: 5
source
Like us on Facebook
Share this recipe