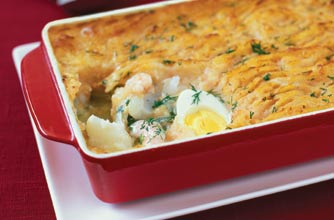 A homely, hearty fish pie Slimming World recipe. Made with low-fat ingredients, this is a great alternative to classic, creamier fish pie recipes.
Ingredients
312g/11oz fat-free natural yogurt
142g/5oz fat-free natural fromage frais
A pinch of nutmeg
4tbsp finely chopped dill
2tbsp chopped parsley
4 hard boiled eggs, shelled and cut in half
6 spring onions, finely chopped
198g/7oz smoked haddock fillets, cooked, skinned and flaked
198g/7oz prawns, peeled and cooked
For the topping:
340g/12oz each carrots and swede, peeled and roughly chopped
1 large egg, beaten
4tbsp fat-free natural yogurt
Salt and freshly ground black pepper
Juice of 1 lemon
Method
First make the topping by boiling the carrots and swede in a large pan of boiling water for 15-20 mins until tender. Drain, return to the pan and mash. Allow to cool, then stir in the beaten egg and yogurt, season and set aside.
Preheat the oven to 200°C/gas 6. In a bowl mix together the yogurt, fromage frais, nutmeg, dill and parsley. Season well and set aside.
In a large mixing bowl place the hard boiled eggs, spring onions, flaked haddock, prawns and lemon juice. Pour over the fromage frais mixture and toss to mix well. Spoon this mixture into a deep, ovenproof dish. Spoon over the topping and spread evenly. Rough up the surface with a fork. Place in the oven and bake for 20-25 mins or until the topping is lightly browned. Serve immediately on its own or with steamed green vegetables.
source
Like us on Facebook
Share this recipe